Press note on poverty estimates, 2009-10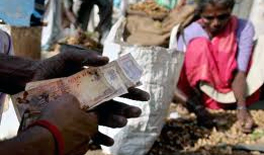 The latest poverty estimates for the country released by Planning Commission shows a decline in poverty by 7.3 per cent over the past five years & says that anyone with a daily consumption expenditure of Rs. 28.35 & Rs. 22.42 in urban and rural areas respectively is above the poverty line.
The Tendulkar Committee for the first time recommended use of implicit prices derived from quantity and value data collected in household consumer expenditure surveys for computing and updating the poverty lines. Tendulkar Committee developed a methodology using implicit prices for estimating state wise poverty lines for the year 2004-05. Using these poverty lines and distribution of monthly per capita consumption expenditure based on mixed reference period (MRP), the Tendulkar Committee estimated poverty ratios for the year 2004-05.In its Report, Tendulkar Committee recommended a methodology for updating 2004-05 poverty lines derived by it.
See Also
Report: Methodology for estimation of poverty.
Report: Level and pattern of consumer expenditure 2009-2010.
Report: Working group on urban poverty
Report: Understanding poverty in India.
Report: Nutritional norms for poverty.
Feature: A million opportunities lost.
Feature: Free from poverty line.
Feature: Poverty line delinked...
Feature: Who are the poor?
Related Content