The world's worst toxic pollution problems report 2011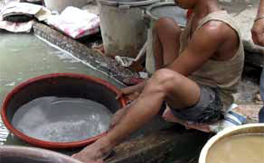 This report by Blacksmith Institute reveals that worst pollution problems stem not from MNCs, but from poorly regulated small-scale operations and it also calculates for the first time, the health impacts of toxic sites.
The World's Worst Toxic Pollution Problems 2011 report reveals that contrary to popular belief, most toxic hotspots result from poorly regulated, locally owned small and medium scale operations, rather than large multinational corporations. This report is the latest in a series of annual reports documenting global pollution issues. For the first time, a report has calculated the health impacts of toxic sites. The calculations show that people impacted by the polluted sites analyzed in the report could lose an average of 12.7 years to death or disability. The report offers the most targeted picture of pollution's toll to date, and is a crucial step in prioritizing life-saving cleanup efforts. The report has covered over 2,200 sites where toxic pollution exists in levels above internationally accepted health standards
See Also
Report: Worlds worst pollution problems report 2010.
Report: Comprehensive environmental assessment of industrial clusters.
Feature: Stinking for two decades.
Feature: AP's killer pharma industry.
Feature: The small big polluter.
Feature: Population exposed to industrial air pollution...
Report: Communities in peril.
Report: Arsenic in groundwater.
Report: Dirty laundry.