High tech boost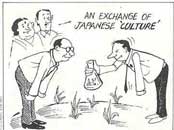 The visit in mid-December of a delegation from the Japanese International Nature Farming Research Centre (INFRC), gave a big boost to organic farmers in India. The Japanese are proponents of a high-technology alternative -- the Effective Microorganism Method (EMM).
INFRC president Teruo Higa explained EMM involves the use of cultures of beneficial microorganisms that improve soil health and crop quality through increased microbial activity. The Japanese claim the technology is specially effective for underground roots and stems. Said Higa, "We have been able to convince farmers and scientists back home that, for several horticultural crops, EMM makes it possible to slash input costs by half and raise production by almost one-fifth."
However, the production of microbial cultures is expensive. Each plant carries an installation tag of $10 million. Higa argued the cost would be offset by the advantages of practicing EMM on a wide scale, as this would eliminate the use of chemical fertilisers.
The INFRC delegation and scientists from the Indian Council of Agricultural Research and Indian agricultural universities discussed the transfer of EMM technology to India on an experimental basis. The Union agriculture ministry has permitted the INFRC to demonstrate the technology in a pilot project on 20.25 ha of agricultural land in Uttar Pradesh.
Related Content