Export controversy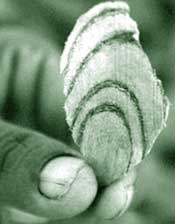 sri lanka's environmentalists are alarmed at the recent alleged export of a large consignment of a threatened medicinal plant to Japan for use in drug manufacture. The kothala himbutu creeper (Salacia reticulata Wight), which is scarce and takes very long to grow, has been used for generations to fight diabetes. Japan is one of the leading producers of drugs containing this herb and owns 10 patents on such drugs. Of the 20 world patents on drugs containing kothala himbutu, 13 contain the species found in Sri Lanka.

The plant's medicinal qualities are well known in Sri Lanka's villages: patients are advised to consume water stored overnight in jugs made from the plant's bark. The identification of the value and scarcity of kothala himbutu prompted export restrictions eight years ago. But environmental lawyer Jagath Gunawardane says the exports have begun again in a big way: "One month ago, seven tonnes of kothala himbutu were exported to Japan,' he claims. A Customs official confirms this, saying the export was backed by relevant permits. "Though the shipment was legal, the question remains whether it was ethical, since the plant is extremely scarce and tissue cultured plants are still in their early stages of growth,' he adds.

But deputy forest conservator K P Ariyadasa stresses that forest products cannot be exported without the department's permit, adding that permission for such a shipment was refused two years ago. "For very rare medicinal plants, we don't normally give permission for large shipments.' The exporter has to prove that the source is a private property and not conserved forestland. "...this is a difficult plant to rear and such large amounts cannot be obtained from a private land,' Ariyadasa adds. The question, then, is: How did the recent export take place?
Related Content