No healthcare for Simplipal tribals in Orissa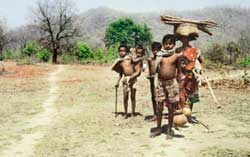 as the Simlipal National Park in Orissa's Mayurbhanj district closes during monsoon to protect wildlife, it turns into a graveyard for its human inhabitants, reports an independent working group on protected areas. In June, an infant's death inside the sanctuary sparked off an investigation by this group of local ngos and experts.

In Kumaribill, a remote village in the district's Gudgudia panchayat, 13 children died of malnutrition this June, says this report. Located inside the buffer zone, the village is 36 km from Jashipur, the nearest town. It remains cut off from the outside world for more than four months during the monsoon.

Once the deaths were reported, 20 ailing children of the village were taken to a hospital in Baripada (district headquarters). Forty-nine people were also detected with malaria. Thirty-five of them were admitted to the Jashipur primary health centre.

N Rout, of the Baripada district hospital, spoke of a special medical camp held in June with support from voluntary organisations. Kumara Singh, a local activist, believes that such ad hoc measures will not help. He says that it was only the media coverage that got the government moving

The director, Similipal Tiger Reserve, Debabrata Swain, agrees: "We are doing what we can with the little funds we have. The health centre in Gudgudia is a problem. Doctors never stay there,' he adds. People dying of starvation and malnutrition are common in the buffer zone as well as the core zone, says a member of the group.

All 65 villages in Simlipal have ailing and dying folk. In Kumaribill alone, from April to June, 17 people have died, including 14 children. Except for the health camp that also shut down from lack of funds, not much is happening to remedy matters. The report also states that effective immunisation has failed to reach the village. There is one anganwadi centre for a 1,000 people. Timely vaccination of children against measles is not being done. Women and children are not provided with malaria medicines at the anganwadi centre.

Simlipal's villages, which are inhabited by tribal communities, are thus forced to resort to quacks. Locked inside their leafy green jail, they are dying of disease and apathy.