PUERTO RICO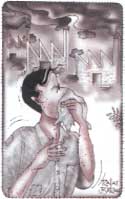 Catano in Puerto Rico is a small town inhabited by some 35,000 people. But in an ordinary sunny day, hardly any children are seen playing in the streets, and many houses bear a deserted look. Welcome to the poorest and also the most polluted city of the country.

Two power plants of Puerto Rico Electric Power Authority (PREPA), located just off the town's southern and northern limits, are responsible for the pollution choking the entire town. In addition to these, there are a host of industries contributing to the pollution. But not much has been done to prevent these industries from choking the already sordid atmosphere. According to Communities United Against Pollution (CUCCO), a city-based anti-pollution organisation, PREPA does not even respond to elected public officials, Set alone the communities affected by its polluting power plants.

Back in 1990, CUCCO had convinced the US Environmental Protection Agency (EPA) to investigate the environmental damage caused by PREPA. After investigation, PREPA was asked to pay a fine of us $6 million and make improvements in its facilities. But the members of CUCCO are not satisfied with the outcome of the case. PKEPA is permitted to burn fuel with a sulphur content of 1.5 per cent. If Cantano's air pollution has to be contained, only fuel with 0.5 per cent sulphur content can be burnt, says CUCCO. But EPA insists that 1.5 per cent fuel is acceptable.
Related Content