Chooser, not a beggar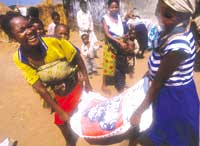 Angola recently banned the import of all genetically modified organisms (gmo s ), except those meant for food aid for its people. un food aid feeds nearly one million Angolans. The decision to impose the ban was taken by the country's council of ministers, state run news agency Angop said. gmos imported as food aid will be milled before they reach beneficiaries, it added.

Some un officials warned the ban will discourage donors. "Some donors have already expressed their intention to reduce donations because of the extra costs the milling would imply,' claimed Cristovao Simao, World Food Programme spokesperson.
Related Content