Agartalas highrises get notice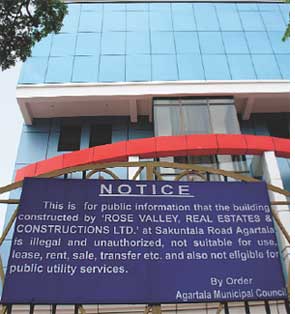 Tripura building laws permit only five storeys

the Agartala Municipal Corporation has banned the use of seven multi-storey buildings in the city that were constructed illegally. The council administration of the corporation pasted notices on the buildings saying they cannot be leased, rented or sold.

The Tripura building rules of 2004 allow buildings only up to a maximum height of 15 metres (five storeys) and bans highrises. The buildings were seven storeys and could endanger life as Tripura is in a high earthquake prone zone. Soil testing and geological investigations are mandatory for all persons who want to get their building plans sanctioned. The builders and plot owners, however, bypassed these rules.

As many as 54 of the 189 buildings constructed after 2004 did not have approvals or flouted the building norms. The finding prompted the recently appointed chief executive officer of the corporation, Kiran Gitte, to book the building owners.