Just sweat it out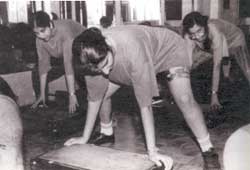 FOR those women who are still not convinced of the usefulness of physical activity, here is another reason to put on the track suit. A recently published report of a study conducted on more than 25r,000 women in Norway suggests that, compared to sedentary women, those who exercised regularly had a lower risk.of developing breast cancer. Moreover, the chances of developing breast cancer recede in direct proportion to the time spent on the exercise floor (New England Journal of Medicine, Vol 336j No 18).

A team led by Inger Thune at the Institute of Community Medicine, University of Trom1p, Norway, and the Cancer Registry of Norway studied 25,624 healthy women aged 20-54 years over the decade ending 1983. Their objective was to correlate physical activity during leisure time and at work to the risk of developing breast cancer.

Most cases of breast cancer are related to lifestyle and environment in a way that is not clear to researchers and scientists. Data relating to their physical activity, diet, age of menstruation, number of children and age at which they had their first child was recorded. The risk of breast cancer increases in women who start menstruating early, have their first child after the age of 30, and are overweight. Excess dietary fat has also been linked to breast cancer in the past.

Researchers followed the women for an average of 14 years, updating the information gathered halfway during the study period. As Norway keeps a country-wide register on all patients diagnosed to have cancer, it was easy for the researchers to determine which of the participating women in their study developed breast cancer. It was found that 351 women developed the cancer.

When researchers analysed the data, they found that exercise patterns predicted breast cancer risk independently of other factors. Those who exercised at least four hours a week during their leisure time had a 37 per cent lower risk of developing breast cancer. This effect was far stronger in those women. who had not reached menopause.

One of the hypotheses that seeks to explain the effect was proposed by Leslie Bernstein, a leading researcher from the University of Southern California, US. Bernstein says that physical exercise reduces the exposure of women to oestrogen. The presumption is that exposure to oestrogen increases the risk of developing breast cancer. This may explain why women who start menstruating early are at a greater risk, as they are exposed to the hormone for longer periods.

With the availability -of more information about breast cancer genes BRCA and BRCA2 and the associated publicity about genetic screening and its efficacy, many women had become convinced that prevention of breast cancer was beyond them. The study provides hope to such women.
Related Content