Today`s breakfast: DDT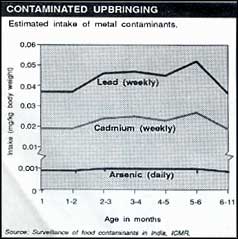 SEVERAL foods people all over the country consume daily -- milk, butter and cereals, for example -- have been found to contain substances hazardous to health by a nationwide survey conducted by the Indian Council of Medical Research (ICMR).

The ICMR surveyors found that as much as 87 per cent of the milk samples collected from 12 states contained residues of pesticides such as benzenehexachloride (BHC) -- technically called HCH and commercially known as gamaxine or linden -- and dichlorodiphenyltrichloroethane (DDT). G S Toteja, a member of the coordinating team, explains the milk samples were tested separately for the basic constituents of BHC, which are the alpha, beta, delta and gamma polymers of HCH as these polymers "have different toxicity profiles".

The highest incidence of milk contamination was reported from Bihar, Uttar Pradesh and Andhra Pradesh. In AP, the BHC content in milk was found to be double the accepted daily intake (ADI).

DDT residues were detected in 82 per cent of the milk samples, with the largest contamination in Maharashtra (74 per cent), followed by Gujarat (70 per cent), Andhra Pradesh (57 per cent), Himachal Pradesh (56 per cent) and Punjab (51 per cent).
Residues unaffected More significantly, these residues remained unaffected when the milk was processed into products such as butter and infant food formulas. Significant amounts of DDT and BHC were found in samples from 20 commercial brands of infant food formulas. The ICMR report estimates that consumption of beta-BHC by infants would be close to 90 per cent of the ADI. The survey has also found various other toxic substances in the infant food formulas.

Toteja says the survey indicates that "the dietary consumption of metallic contaminants, resulting from the recommended intake of infant formulas for various age groups, is about eight times more than permissible limits". Carcinogenic cereals The ICMR survey also found that many cereals contained aflatoxin, a cancer causing fungal product. Of the maize samples collected from 11 states, 26 per cent were found to be contaminated by aflatoxin, with the highest contents reported from Uttar Pradesh, Bihar, West Bengal, Orissa and Andhra Pradesh.

Aflatoxin concentrations were also beyond the prescribed safety limits in 21 per cent of the groundnut samples taken from 14 states, with Haryana, Maharashtra, and Karnataka topping the list. Significant amounts of aflatoxin were also found in 14 other agro-commodities, including red chillies, bajra and cotton seed.
Laws lack teeth Stressing that statutory limits need to be enforced for the contaminants, project members point out the Prevention of Food Adulteration Act has been extremely ineffective. Project coordinator B N Saxena feels effective enforcement of contamination control laws will always be hampered by "lack of consumer awareness, lack of training among the farmers and poor food storage conditions", and so, it is all the more important that food contaminants be regularly monitored.

Saxena says the project is significant because "for the first time an adequate data base on contamination levels at the consumption stage is being acquired by health policy makers". He points out that the only other such study, which was conducted in 1979 by the directorate-general of health services in collaboration with the Food and Agricultural Organisation, failed to provide detailed information because it surveyed only a limited number of samples. The ICMR study adopted a "multi-centric strategy" involving several national research laboratories, universities and other organisations.
Related Content