Boxing sharpens the mind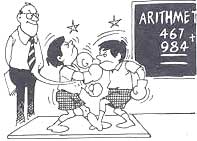 CONTRARY to received wisdom, boxing may not be damaging to the boxer's brain. In fact, anti-boxing advocates may be surprised to learn that this "inhuman sport" may even improve boxers' skills at elementary arithmetic, a British trial has concluded (The Lancet, Vol 342, No 8877).

The trial examined the mental performance of 86 amateur youths who boxed, played water polo and rugby football. It found that shortly after a bout, boxers could add a series of single-digit numbers faster than before, whereas the water polo and rugby players displayed no such post-match difference. Furthermore, the boxers kept up their performance upto two years later, unlike players of the other two sports, who showed no change.