Protecting elephants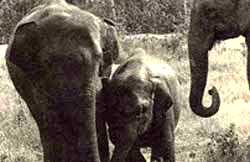 The West Bengal government has begun work on developing an elephant sanctuary in the contiguous forest areas of Midnapore, Bankura and Purulia. The state government's decision has been prompted by regular clashes between the local population and elephants, both of which are growing in number and need more space.

Inhabitants of the eight villages that fall on the fringe of the area envisaged for the reserve, are being offered alternative homesteads in nearby villages. Those who refuse to move will be provided adequate protection. The West Bengal forest department plans to enclose the core area of the reserve with electric fencing, which will also keep away rogue elephants.

Meanwhile, a Bhubaneswar-based voluntary organisation, Biome, has initiated an international campaign for the protection of the Asiatic elephant in collaboration with other organisations in the US, UK and Australia. The campaign, called Gaja Raksha, will focus on issues such as captivity, habitat, poaching and fodder destruction, and will include various publicity measures, including exhibitions in Bhubaneswar, Kodaikanal and later, in France and the USA.
Related Content