Protest against plant near Tanzania`s Lake Natron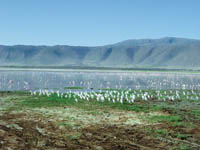 Plans to establish a soda-ash plant on the shores of Lake Natron in northern Tanzania is facing strong opposition. Conservationists fear harm to the rare flamingo. The plant is to be set up by the Indian company Tata Chemicals Limited, which manufactures inorganic chemicals.

Chris Magin of uk's Royal Society for the Protection of Birds Africa described the plans as "bonkers' and warned that it could drive the flamingoes to extinction.

Tata bought the soda-ash plant from the uk chemicals company Brunner Mond in 2005. (One year later, Tata Chemicals acquired the Brunner Mond Group). Tata commissioned an environmental and social assessment of the lake and held a public workshop to address the issue. But critics say Tata prevented some environmental ngos from attending the workshop and made public only a part of the environmental impact report.