Malawi suspends tobacco sales in fluctuating market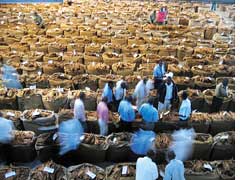 The Malawian government has suspended domestic tobacco sales in major markets following a price dispute between growers and merchants.

In early April, tobacco prices reached the highest us $11 per kg and then dropped. This fluctuating price could undermine Malawi's economic targets, said the finance minister. Tobacco accounts for 15 per cent of Malawi's economy. Over 40,000 bales of tobacco are waiting at the auction floors of Lilongwe, Blantyre and Mzuzu markets to be sold. In March, Malawi suspended a tobacco auction after farmers protested against a drop in the market. Amid reports of a worldwide tobacco shortage, farmers are demanding higher prices.