No one in the world can manage floods better than us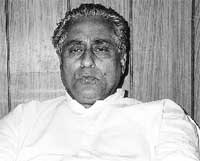 Why have flood-control measures failed?
You must understand that the water comes from Nepal. We must stop it there. Embankments were constructed as a secondary measure. But the primary aim of the government has been to construct the Barahkshetra dam in Nepal, which will help control the water release.

Why the stress on embankments?
I feel that Kosi embankment saved Saharsa, Darbhanga and Madhubani districts from destruction and brought prosperity to that region.

Will you be able to generate Rs 40,000 crore for the Barahkshetra dam in Nepal?
We are confident of arranging the required funds with the help of the Union government and international funding agencies.

You once said you would stop constructing embankments because it is not an effective measure?
No. I feel that embankments in many areas have proved useful.The past governments did commit mistakes by constructing embankments. These rivers are today flowing above the level of plains with the increase in the height of riverbeds. If we remove embankments now, we cannot imagine how much destruction floods would cause.

There are charges that embankment construction is leading to rampant corruption?
That phase is over. Today, many people are unhappy because they are not able to siphon off money.

The 1997 CAG report mentions several cases of corruption during your tenure?
The CAG report has said that the government should have invested more money. Uske bap ke ghar se paisa ayega kya ? (Will CAG foot the bill?). They should not interfere in matters, which do not concern them.

How do you plan to control floods in the future?
We can only take measures to minimise the impact of floods. Even if we limit the damages to three per cent in a flood-affected area, we should consider it a protected zone. No one in the world can manage floods better than us.
Related Content