Chhattisgarh"s ration stocks run dry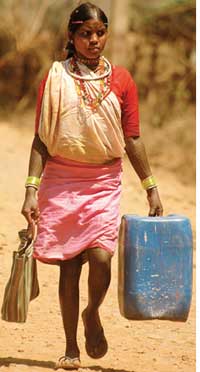 The claim: "We give 3.2 million families 35 kg of rice each every month at Rs 3 per kg. The price was brought down from Rs 6.25 per kg in January,' said Chhattisgarh Chief Minister Raman Singh at a seminar on food security through public distribution system (pds) on March 25, 2008.

Ground reality: "Only 110 kg of rice has arrived at the fair price shop (ration shop) as stock for April. This means barely three card holders will get the quota; against 185 bpl cards issued,' Santlal of Mouabhatta village, Raipur, told the Down To Earth (dte) correspondent on March 27, 2008.

Sanju Dewangan, member of a co-operative society that runs ration shops in seven other villages in the district, corroborates Santlal's claims. "Hopefully, some more stock will arrive during the month, but I am not sure,' he said.The only option left, for Santlal and other villagers, is to buy rice from the open market at Rs 12-15 per kg. But the fair price shop at Mouabhatta had almost 6,500 kg of rice from the stocks received before December 2007. "This is the Rs 6.25 per kg stock. We haven't received any orders from the government to disburse them,' Dewangan said. Chhattisgarh food and civil supplies department's deputy director, Rajesh Jaiswal, told dte they were in the process of issuing written orders to co-operatives to begin the disbursement of the old stock at Rs 3 per kg.

Alok Shukla, secretary, food and civil supplies, said leakages in pds had stopped. "Private players are out. Co-operatives and self-help groups are in,' he said. However, two months ago villagers in Kanker district found 6,500 kg of rice was being "smuggled' into Orissa from a cooperative in the district. It was done on the pretext of shifting supplies from one fair price shop to the other. Villagers said cases of missing sugar and kerosene stocks were common and added that in some places, iodized salt, supposed to be sold at 25 paise per kg, was being sold at 50 paise per kg.

Skewed seven
Sitaram Sonwani, resident of Peepercheri village in Raipur, said the grey card, meant for the sc and st, had not been given to many belonging to the Kamar and the Bhunjiya tribes (see box: Colour code). Members of the Baiga community faces a similar problem. "Some have the cards. Others have given applications but there is no response,' said Shikari Baiga, resident of Bokhrabara in Kawardha district. A little away from Bokhrabara is another Baiga settlement, Singari. People displaced from the Daldali bauxite mines in Kawardha stay in this village. They can use their cards only at a ration shop near their former village, about 35 km away. They are waiting for a new ration card to avail of facilities at a shop within 10 km of Singari. "For 35 kg of rice at Rs 105 we spend Rs 80-90 on the travel,' said Lahru Singh, a Singari resident.

No denying
Officials at the seminar admitted that the current system for identification of the poor was "deeply flawed'. The state government has drawn up Raipur Declaration, aimed at improving the system of identifying the poor, with recommendations of food commissioners appointed by the supreme court and activists. The declaration will be given to the central government for approval.

"Identification of bpl families should be based on social and economic categories,' said N C Saxena, the state's food commissioner. The government has recommended strengthening village-level vigilance committees, but these haven't been formed. They will function besides the food inspectors who ensure that gram sabha members should be present when pds stock arrives in a village.

Other recommendations include social audits, offences under pds made cognizable and non-bailable, and disclosure under the right to information. Villagers say these are but a new set of promises, which will make sense only when they are implemented.