UP is core area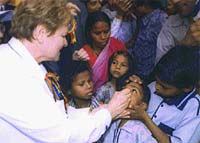 The upsurge in the incidence of polio in Uttar Pradesh (up) is threatening to derail the World Health Organisation's (who) goal of eradicating the disease from the planet by 2005, asserts who Director General Gro Harlem Brundtland.

At least 15 per cent of up's children are believed to be "under-immunised' against polio. The strain common in the northern Indian state has now been located even in far-off Lebanon, leading Brundtland to conclude that " up is now the epicentre of the world's polio'. Brundtland adds: "This country, and up in particular, is the number one priority for stopping transmission of the polio virus around the world.'

India is one of only seven countries that are still affected by polio. up alone accounts for almost 64 per cent of all new cases reported globally. Besides, polio transmission has started taking place in Gujarat and West Bengal as well. To counter the threat, up has planned six campaign days for this year's vaccination programme.
Related Content