Wind for BHEL`s sails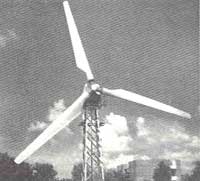 Bharat Heavy Electricals Ltd (BHEL) has entered into a technical collaboration with Nordex A/S of Denmark in a major effort to expand its wind-powered electricity generation equipment. BHEL has its eye on the plans of the Union ministry of non-conventional energy resources to install 800 MW of wind-generated electricity in Andhra Pradesh, Gujarat, Karnataka, Kerala, Maharashtra and Tamil Nadu during the Eighth Plan (1991-97).

BHEL research and design director K Ramakrishnan said, "Nordex A/S is the acknowledged world leader in designing and manufacturing wind-powered electric generators." As a result of the collaboration, BHEL would be able to build generators that can work optimally in the low wind speeds of 15 km per hour, which blow in the selected states. According to Nordex A/S managing director Carsten Pedersen, "The Indian government's attractive incentives" to set up wind energy farms would make such projects "very cost-effective".
Related Content