Increase in green cover, says report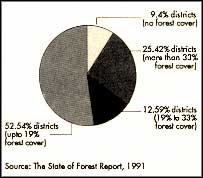 FOR the first time possibly since independence, the forest cover in India has recorded an increase. The green cover has gone up from 19.47 per cent to 19.49 per cent, with an annual incremental growth of- 28,000 ha, says the latest issue of The State of Forest Report, prepared by the Forest Survey of India.

On the whole, the dense forest in the country has increased by 1.88 per cent, but the area under open forest has declined by 2.55 per cent. However, the trend in some states is at a variance with the national trend. Forest cover has been on a steady decline since 1981 in Andhra Pradesh, Assam, Bihar, Haryana and West Bengal. On the other hand, states like Arunachal Pradesh, Nagaland, Manipur and Sikkim have shown a decline in their forest cover in the latest assessment.

Shifting cultivation in the Northeast has been held responsible for deforestation, in Arunachal Pradesh, about 24,500 ha of open forest have become non-forest area. Nagaland has lost about 13,600 ha. In Assam, about 8,100 ha of severely degraded dense forest have been put into thenon-forest category.

In Orissa, on the other hand, development projects like the Rangoli dam in Sambhalpur district and another dam in Koraput district have together taken a toll of .5,000 ha of dense forest. About 1,400 ha of mangrove forests have disappeared around the Rann of Kutch and the coastal region of Jamnagar district in Gujarat.

The silver lining is the regeneration taking place in abandoned shifting cultivation areas in some parts of the Northeast, and in scrublands in states like Orissa and Punjab. This time, the satellite was even able to recognise artificial plantations.

Only in two states', Madhya Pradesh and Punjab, has the forest cover increased steadily since 1981, A few states like Kerala, Karnataka and Meghalaya have started increasing their forest cover only in the last three years.

The survey also gives districtwise data on forest cover for the first time. It is alarming that out of 413 districts in India, about 52 districts do not have any forest cover 15 in Bihar and 11 in Uttar Pradesh.

With better interpretation of satellite images, the FSI has been able to separate tea gardens, sugar-cane plantations and weedy lantana thickets from forest vegetation. Also, after correction, the geographical area of India has dropped from 328.78 million ha to 328.73 million ha. Assam has lost about 119,900 ha of forest cover on account of tea gardens. About 102,400 ha of land which earlier got assessed as forest due to computational errors in Himachal Pradesh have been deducted.
Related Content