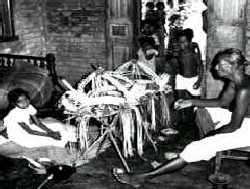 after nearly four centuries of somnolent neglect, Sri Lanka is finally waking up to the magic of its traditional systems of medicine. The creation of a separate ministry of indigenous medicine in 1980 was the culmination of a series of measures taken by successive governments to revive traditional medical systems, mainly ayurveda. The ministry, initially assigned project ministry status (akin to ministries of state without a cabinet rank), has since been elevated. Today, the ministry of cooperatives, provincial councils and indigenous medicine enjoys a cabinet rank.

Strictly speaking, the ministry's name is a misnomer: the ayurvedic system as practised in Sri Lanka did not originate on the island.Introduced from India in the 5th century bc , this system has been handed down from generation to generation since then, and today is so closely integrated into native culture and traditions that few seem to remember its origins.
History says Medicine was one of the four sciences which, in ancient times, every aristocratic Lankan was expected to dabble in. As a result, it attained a high degree of efficiency in practice and received royal patronage. The island"s historical chronicles abound with instances where kings built hospitals, distributed medicines and in a few remarkable cases, themselves were accomplished physicians or surgeons. Adrian Senadhira (head of technical services, World Health Organization library, Geneva), who has studied the history of scientific literature in Sri Lanka, says: "Although no works of medicine written in the early period exist, there is evidence that there were medical practitioners in Sri Lanka from the very early times, and it is likely that medical studies formed part of the curriculum in Lanka at the time."

Even though a number of medical books were written in the later centuries, much of the indigenous medical knowledge was preserved in the oral tradition - passed on from father to son, or from senior Buddhist monks to their juniors. A considerable amount of this indigenous expertise was forgotten or lost - some of it irrevocably - during the four centuries of colonial influence and suppression of local traditions; the British rule (1915 to 1948) firmly established Western medical traditions in the island.

During this period, ayurveda received little state patro-nage, and its practitioners were marginalised and often dismissed as "quacks". Many were weaned off traditional medicine to the Western system by the latter"s promise of rapid results, convenience and easy availability. Ironically, nearly 50 years after independence, Sri Lanka still maintains the Western traditions as the mainstream, and allocates a disproportionately large amount of public funds to it. In contrast, ayurveda and other non-Western systems are described in some official circles as "alternative systems of medicine". Western medical professionals continue to have a firm grip on the country"s healthcare system and resources.
Tradition holds good Yet, surveys have shown that eight out of 10 Sri Lankans still consult traditional medical practitioners at least occasionally, if not regularly. Ayurvedic treatment is sought for chronic or geriatric conditions like rheumatoid arthritis, skin diseases, asthma and diabetes, for which there are no "quick fixes" in Western medicine. The country"s top ranking traditional healers treat thousands of patients every month.

The resurgence of indigenous medicine began shortly after independence in 1948, when the ayurveda medical colleges were placed under government sponsorship and a number of ayurvedic hospitals were established by the state. This process received a boost in 1956, when a sepa-rate ayurveda department was created by Prime Minister S W R D Bandarnaike"s government to support and improve all aspects of ayurveda. Many credit Bandarnaike with ushering in a social transformation which led to greater respect and recognition to the hitherto neglected aspects of Lankan culture, including indigenous medicine. It was in his memory - three years after his death - that the Bandarnaike Memorial Ayurveda Research Institute ( bmari ) was established in 1962.

The nerve-centre of it all
The bmari , located in Nawinna, 15 km from Colombo, has emerged as the country"s premier research and development organisation in indigenous medicine. It has a multi-faceted research programme, covering aspects such as systematic cultivation of medicinal plants, study into medicinal properties of individual plants, identification of substitutes, study of indigenous medical literature, collection and preservation of indigenous knowledge related to ayurveda and the promotion of indigenous medicine at all levels.

A major challenge for bmari has been its initiative in collecting scattered data on ayurveda from thousands of individual practitioners and organising them for analysis and preservation. For instance, the institute found more than 5,000 different local names of medicinal plants. Based on interviews with medical practitioners and cross-checking the information with written records, bmari scientists identified and authenticated 1,483 plants by their modern botanical names.

"The ethnobotanical survey was complicated by several factors," says Gunaratne de Silva, principal scientist (botanical) at bmari . "Several names were used for a plant, or several plants were sometime known by the same name. In a few cases, we had to probe secret recipes maintained by ayurveda doctors." The results of this survey have been developed as a computerised database, which stores information on the local names (in Sinhala, Tamil, English and other tongues), the corresponding botanical name, known uses and citations in medical literature. Parallel to this, a large collection of dry and live specimens has also been developed.

On another front, the bmari is promoting the cultivation of medicinal plants to cater to the needs of local drug manufacturers. This is aimed at reducing the level of medicinal plant or product collection from the wild. It also seeks to reduce the country"s dependence on imported plants for ayurvedic drugs; Sri Lanka annually spends nearly us $1 million on importing, mostly from India, 74 items derived from 72 species. Of these, 34 cannot be cultivated locally.

The bmari is promoting the cultivation of other similar plants as a community-based small agro-industry. It has developed and introduced agro-technologies for the systematic cultivation of many medicinal plants. From a list of 200 most widely used medicinal plants, bmari has identified species which are economically viable for cultivation. For instance, 25 species have been identified for cultivation in home gardens, while 50 have been selected for use in reforestation programmes and school-based activities.

Parallel to disseminating information on these, farmers and school children are being trained in the proper ways of cultivating and harvesting medicinal plants. "The most practical way we can conserve the enormous biodiversity in medicinal plants is to assign value to the plants and to encourage their cultivation," says Gunaratne de Silva. "I am convinced that such cultivation is best carried out at the community level. We can provide technical advice, plant material and support."

bmari is working with plant collectors, drug manufacturers, traders, medical practitioners and researchers in improving the entire production process of indigenous medicine, beginning with sustainable harvesting of raw materials. Today, bmari is receiving increased recognition and funds to carry out its work. The United Nations Development Programme has helped establish three herbal gardens and supported the training of farmers and school children in the cultivation of medicinal plants. The Global Environmental Facility is considering an ambitious project to conserve medicinal plants, a project in whose design and implementation bmari will play a key role.

Of despair and hope
In addition to the bmari , several other institutions function under the ministry of indigenous medicine. The Ayurveda Drug Manufacturing Corporation (now restructured as Sri Lanka Herbal Products Limited) is engaged in the manufacture of high quality medicines in various forms. The ayurveda department has a network of hospitals, a fledging National Institute of Traditional Medicine and a Medicinal Plant Cultivation, Conservation and Extension Project.

In spite of its deep roots in Sri Lankan culture, and recently increased visibility, recognition and state patronage, ayurveda continues to be hounded by problems. Younger people tend to have less faith in "old medicine" and only a few want careers in indigenous medicine. Most of the ayurveda doctors are over 50 years of age, and their numbers are depleting. An esti-mated 7,500 ayurvedic physicians are in active practice in Sri Lanka; of these, around 3,000 are formally licensed. This is in sharp contrast to the over 23,000 doctors and paramedics who have been trained in the Western tradition.

bmari "s scientists and government bureaucrats in charge are confident that they can turn things around by exploiting the new interest in herbal medicine and natural systems of treatment. But to transform this popular interest into a wider acceptance for indigenous medicine will require a combination of more resources, research and innovative marketing skills.