City of waste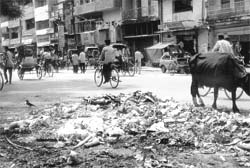 the capital of Bihar, Patna, is a fast expanding modern city and like all modern cities is beset by its share of problems. Most prominent among them being its inability to manage its solid wastes.

With a population well in excess of 10 lakh residing along the banks of the Ganga, the threat today is from the spread of infectious diseases due to the deplorable state of civic conditions in the city.

Though the municipal solid waste management system has been operational since 1951, conditions are as pathetic today as it has been decades ago. However, of particular concern is the management of hospital waste. Even six years after the drafting of Bio-medical Wastes (Management and Handling) rules, 1994, none of the hospitals in the city's 39 wards have any facilities for the segregation and incineration of waste generated by them. These wastes are disposed of along the roadside in the same manner as domestic and commercial waste. At times such waste finds it way into the Ganga, contaminating it in the process.

A survey sponsored by the Central Pollution Control Board and conducted by Environment Protection Training and Research Institute, Hyderabad, states that the city generates around 330 tonnes of waste per day. But it is a well known fact that the largest of Patna's three circles, the New Capital circle, generates around 200 tonnes of garbage per day. The civic bodies are also assisted in their task by voluntary organisations but the task has proved to be beyond their combined efforts. Even the presence of waste bins and kura sthals has not served any useful purpose because of their inappropriate placement and size. This has led to people dumping litter at any site convenient to them. This has resulted in the common sight of choked and overflowing sewer lines.

Environmental activist and researcher Smita Singh blames the popular polythene carry bags for the state of the sewers and advocates a ban on the use of these bags.

At the disposal sites, the untreatment waste is dumped in the open resulting in a foul odour emanating permanently from the area besides posing a health hazard to residents.
Related Content
Additional reply by Varanasi Development Authority on the setting up of a Tent City on the riverbed of Ganga, Varanasi, 29/11/2023
Report filed by the Rajasthan State Pollution Control Board regarding municipal solid waste disposal facility and sanitary landfill' site at Balicha, Udaipur, 30/10/2023
Order of the National Green Tribunal regarding deteriorating air quality in Delhi NCR and the resulting health effects, 20/10/2023
Report by Deputy Salt Commissioner, Mumbai regarding steps taken to remove C&D waste from salt pans, Mumbai, Maharashtra, 12/10/2023
Order of the National Green Tribunal regarding 36 drains in Mathura-Vrindavan discharging sewage into river Yamuna, 05/10/2023