In a quarry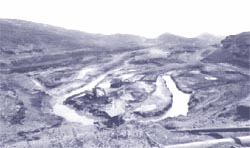 extensive iron ore mining combined with inadequate control measures has degraded an area of about 520 sq km in interior Goa. According to a study by the Tata Energy Research Institute (teri), New Delhi, conducted on behalf of the Goan government, to assess the mining industries' impact on the environment, land, air and water pollution is very high in most of these areas. The human population is about 100,000.

The levels of suspended particulate matter was found to be very high in the areas around the mines and along the road networks used to transport the ore. The report also says that wastewater and run off from huge mounds of ore residues have silted rivers, streams and nullahs.

Goa's mining belt, which covers roughly 700 sq km and almost 20 per cent of its land area, is located in the four talukas (blocks) of Bicholim, Sattari, Sanguem and Quepem. The process involves the extraction of ore from open cast mines, which is transported to treatment plants and then to loading points on rivers. From here, they are hauled onto barges, which trasnport them to bigger ships that take the ore to Europe, Japan, South Korea and China. But while these operations have brought foreign exchange and heavy profits for private mining houses, the social costs have been heavy. Once the mines are exhausted, the pits resemble huge craters, surrounded by ore rejects.

Of the 57 villages in the study area, the ambient air quality in 12 is very poor, the reports says, adding that run-off from mounds of ore residues has contaminated fields and irrigation canals. This has affected the soil quality and reduced agricultural production, by as much as 50 per cent in some areas.

From 1988-1997, an estimated 2,500 hectares (ha) of total forest area have been affected by mining. Another 100 ha is likely to be leased out to mining companies in the near future.

The teri study has recommended construction of check dams, filter beds, and settling tanks to decrease pit discharge water, reclaimation of degraded land and rehabilitation of tailing ponds.

Other measures include improvement of mine and public roads, dust control measures, alternative roads for ore movement. However, the report recommends that rehabilitation of old waste dumps and abandoned mines along with de-silting rivers or streams should be made the government's priority.
Related Content
Order of the National Green Tribunal regarding illegal excavation of sand from Son river, village Thatara, district Singrauli, Madhya Pradesh, 04/01/2023
Joint enquiry report on the operation of Kantipal stone quarry, Anandapur tahasil, Kendujhar district, Odisha, 14/11/2022
Joint Committee report on illegal excavation of sand from Son river, village Thatara, district Singrauli, Madhya Pradesh, 01/11/2022