Friendly fires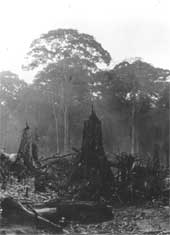 on the face of it, fire is damaging. But as far as ecology goes, it may prove to be constructive. One of the products of fire, charcoal, is an inert addition to soil that has more of physical rather than chemical effects. Yet it is well known that charcoal can adsorb organic molecules such as phenols, and these in turn are important compounds in soil ecology. Due to its distinctive physico-chemical properties, soil charcoal could have profound effects on development of vegetation ( Nature , Vol 384, No 6607).

Studies on the consequences of fire on soil have concentrated on effects such as the release of nutrients from biomass and litter; loss of organic matter in the surface layers of the soil; and change in acidity/alkalinity of soil. The rise in temperature of the soil after a fire results in a temporary enrichment of soil which is evidenced by the invasion of nutrient-demanding plants like Chamerion angustifolium . Consumption of organic matter by soil as a result of fire also leads to enhanced germination of seeds which have easier access to the mineral-rich soil in the absence of surface litter.

Following a fire, charcoal in the soil profile has been found to change water infiltration and water retention capacities as well as porosity of soils. This is of great ecological significance in valley sites, where a change in physical properties of the soil following a fire can result in poor drainage and development of wetland flora. Charcoal redistribution in soil may even provide waterlogged conditions necessary for initiation of peat formation (decomposition of organic matter in bogs to form a firm brown deposit resembling soil).

The microbial community in soils is also seen to be affected by a fire. During a fire there is a steep rise in temperature within the soil profile, so the impact on microbial activity is usually put down to draining of chemicals from the soil or the supply of additional carbon compounds associated with burning. Under normal unburnt conditions some organic chemicals like tannins suppress the growth of microbial populations. This could inhibit microbial functions such as nitrification which lead to development of a higher biomass ecosystem. A fire may release this restriction by burning these organic compounds to allow new development in soil chemistry and vegetation. It can free ecosystems from chemical domination imposed by plants that produce plant-microbe suppressing agents, explains Peter D Moore of King's College, London.
Related Content