"Power" to the people irks Bengal villagers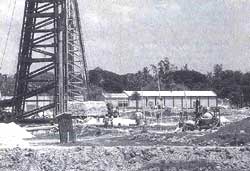 BIPUL Adak is a puzzled man. "Why does the government flout its own rules?" he asks of the move to set up a thermal power plant on rich, fertile agricultural land near Calcutta. Disregarding environmental guidelines, the West Bengal government allowed the privately owned Calcutta Electric Supply Corp (CESC) to build a 500-MW thermal power plant in Pujali village near Budge Budge, close to Calcutta.

Adak is president of the Gram Bachao Sangram Committee (GBSC), which was formed to take up the cudgels for about 15,000 people from nearly 3,000 households in 20 villages who stand to lose their homes and livelihoods if the plant comes up.

Since 1990, the villagers of Pujali and Rajibpur gram panchayat areas, numbering about 36,400, have been hearing of the power plant that would be built on their land. But they were never told of the precise area of land on which the power plant would be located.

Says GBSC secretary Pratap Khanda, "Different sources gave us varying estimates of the land to be acquired for the project: The first leaflet distributed by CESC to the villagers said 130 ha of land were needed for the Rs 1,889-crore project, but their second leaflet said only 40 ha were needed. The ministry of environment and forests (MEF) says clearance has been given for 88 ha. The South 24 Parganas district magistrate says totally 188 ha are needed."

Soon after word of the project came in June 1990, GBSC organised a signature campaign and wrote to then environment minister Maneka Gandhi, who refused environmental clearance for the project. But the villagers' hopes were belied when the National Front government, in which Gandhi was minister, lost power. Ironically, West Bengal's ruling Left Front party, a National Front ally, did not object to the plant to be set up by the Goenka group.

The villagers are fully aware that the project violates MEF policies for power plants. Says Adak, "According to MEF guidelines, no forest or prime agricultural land can be utilised to set up a thermal power station or to dispose of ash. It is also specified that thermal power stations cannot be located near places of archaeological, historical, cultural, religious or tourist importance and near defence installations."
Reign of terror Notwithstanding such stipulations, MEF itself cleared the project and on January 2, 1992, CESC surveyors arrived in Pujali. From then on, a reign of terror prevailed in the area.

Says Fazlul Hoq, a GBSC member, "Land acquisition notices were not served formally to landholders. Notices were merely strewed on the road and pasted up in tea shops. We couldn't even file objections."

When the surveyors began demarcating land for the plant and filling the low-lying fields with fly ash to level them, the villagers retaliated violently. In a struggle with the police, 20 people were injured and 52 arrested. Says Adak, "It was natural. Any farmer would be incensed at the sight of his standing paddy crops being covered with fly ash. They started dumping fly ash in the fields right from the first day and refused to let us harvest the crops."

In July 1992, when the 20 ha for the immediate project site was being fenced off, the protests led to police firing. The GBSC office was ransacked several times. A 75-year-old man died from police beatings. Young boys were rounded up and thrashed for opposing the project. "We cannot sleep at home because they come looking for us," says a 17-year-old, who did not disclose his name for fear of reprisal. "I have been charged with throwing bombs at police vans. They don't know my face, so they can't find me." Many villagers have been implicated in murder cases. Even women are not spared. Sushila Bag, a physically handicapped 70-year-old woman who looks after a Shiva temple in Pujali, says, "The cops abused me, humiliated me and broke the tiles of my house. When they realised I was handicapped, they took pity on me and didn't thrash me."

Inadequate redressal
According to GBSC sources, 80 per cent of the villagers are scheduled castes, many of them fisherfolk, while the rest are Muslims. They feel this is just another injustice being inflicted on them. Seventy per cent of the land to be acquired is prime agricultural land yielding two crops every year and sometimes a crop of vegetables. Annual income from each ha of land is about Rs 90,000.

Says Adak, "The government has promised Rs 52,000 per ha as compensation. Some landowners who are close to the CPM have been paid some money. But most others haven't got anything so far. Nothing has been worked out for the landless, the sharecroppers or the fisherfolk."

Regardless of how much land the villagers own, each family has been promised only a bare, 9-square-metre hut as compensation. According to Adak, besides this, the government is cheating the people by recognising only the original title deed holder as an affected person, be it for agricultural or homestead land. This is considered unfair because the original deed holder may have died or the number in his family may have increased.

"The talk of rehabilitation is a farce. How can one entire family go and stay in a 9-square-metre hut?" asks Shibani Pramanik, who lost all the paddy fields her husband cultivated as a sharecropper. The tiled roof of her house has been broken several times by police.

Construction work on the main plant is under way. Pujali constantly reverberates with the deafening sound of pile drivers. Besides the work on the plant, areas are being cleared for fly ash ponds.

The four brickfields in the area have been affected. "The government has already relocated two of them to alternate sites in Akra. Why can't we be given alternate land sites instead?" asks Minati Mondol of Pujali. Her house is rattled by the sound of the machines that work day and night, but she refuses to move out. "Amar ganatantrik adhikar ami chadbo keno (Why should I give up my democratic rights)?" she asks.

The villagers also fear two old temples will be pulled down. One of the shrines is a Shiva temple and the other is a 250-year-old Chinese temple built by Achi Jong, a Chinese trader who set up a flourishing business in Calcutta. The village Achipur is named after the trader and the temple is the site of an annual, month-long winter fair, which is attended by several Chinese from Calcutta.

GBSC members point out that even a stipulation requiring power plants to be located at least 500 metres away from a river has been ignored. In fact, the proposed plant uses the Hooghly river as its boundary.

However, the villagers have not been cowed down. Some of them, misled by the air of uncertainty, accepted the plant as fait accompli and sold their land title deeds to the numerous agents who showed up. But the GBSC stands firm in its resolve to not move.

Even the CPM panchayat pradhan, Basudev Das, who once actively stifled opposition to the project, is dissatisfied with the rehabilitation colony. Das is also upset that most of the labourers employed on the project are brought from outside and locals are not engaged as promised.

But what greatly upset the villagers was their exclusion from the May 30 panchayat elections. Most of the villages in the two gram panchayat areas were declared notified and no elections were held.

A CPM cadre active in the GBSC, speaking on condition of anonymity, says, "The CPM touted the panchayat elections as an example of its commitment to village self-rule. Villagers are not only supposed to be empowered to decide their development priorities but they are also supposed to determine how their resources are used. The best way to sabotage this power is not to give us voting rights. I wonder how serious the party is about the whole issue."

"Only Rajarampur village was not declared a notified area because of the hurry the officials were in," says Hoq. "The CPM didn't dare hold elections here this time as they would have surely lost on the CESC issue."

The people aren't enamoured with the Congress either. "We've made repeated requests to Mamata Bannerjee to visit us. She came to Budge Budge, but didn't come to our village," says Mondol.

Alternate proposals
GBSC members and the villagers suggest that other options, such as solar power generation or relocating the plant to an unpopulated site, be considered. "We have pointed out an alternative site near Akra, which is close by," says Adak. Some villagers even question the necessity of another plant. Most power units in West Bengal are reported to operate at only 40 per cent capacity, but officials deny this.

CESC spokespersons deny they are doing anything wrong and pass the buck on to the state government. "CESC is committed to the social well-being of the project-affected persons. That's why we are trying to build a housing colony for them. Vested interests are trying to instigate the people unnecessarily. They should be discouraged," says Ashoke Mukherjee, CESC's public relations manager.

But certainly not all is well. The MEF, in a letter dated May 17, suspended ecological clearance for the project, one of the grounds being that CESC was acquiring more land than originally agreed.

Perhaps this is not all. An MEF official who prefers anonymity, says, "There are quite a lot of conditions yet to be fulfilled, but I cannot divulge details as I am not authorised to do so."

Meanwhile, the villagers remain determined to fight to the end.
Related Content