Death by starvation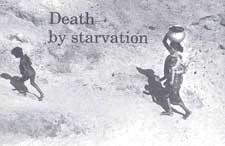 BESET by famine and drought, large sections of Orissa and Bihar are beginning to mirror the stark images of hunger in Somalia and Sudan. In Orissa, more than 10 million people -- the majority of whom are tribals -- are reeling under a famine. In tribal-dominated south Bihar, too, more than 1 million people are suffering under the worst famine since 1967.

Starvation deaths, sale of children and mass migration are the order of the day. The unofficial death toll from starvation has reached 350 and 150 in Orissa and Bihar, respectively. Victims are forced to eat boiled tendu leaves, wild roots, mango starch, bamboo roots, powdered tamarind and tangan seeds. Local administrations frantically deny these claims and a white paper prepared by the Orissa government doesn't even mention starvation deaths. Sarat Chandra Pattanayak, Congress MP of Bolangir in Orissa, says, "Often, starvation leads to death from heart attack or diarrhoea and the administration records it as such."

The Congress government at the Centre and the respective state governments blame each other for the state of affairs (See box). Says Subhas Chandra Nayak, Congress MP from Kalahandi in Orissa, "Politicians are making capital out of a human tragedy."

Failure of the public distribution system (PDS) and the administrative machinery, lack of funds and food security and the absence of a national policy to tackle the famine are generally cited as the reasons for the tragedy. But the huge buffer stock of foodgrain that India boasts of makes it clear the recurring starvation in these pockets arises from deprivation.

Nearly 85 per cent of PDS supplies in the country goes to urban areas where only about 30 per cent of the population lives. In the distribution of the remaining 15 per cent, extra weightage is not given to states like Orissa and Bihar that have massive populations below the poverty line.
No food security Economist K N Kabra of New Delhi's Indian Institute of Public Administration says, "People are dying in Orissa and Bihar because there is no micro food security despite an increase in macro production. Moreover, in Orissa, the PDS entitlement is very low." Even fair price shops (FPS) that normally flourish in the black market during general food shortages have been affected because the people simply have no purchasing power.

However, the real cause of the famine lies in the state's indifference to the people's needs and its disregard for people's institutions that used to, among other things, regulate the use of the environment. Kalahandi was an agriculturally surplus district up to the early 1960s. The people used to grow two paddy crops a year and in some places, even three. During the Bengal famine of 1943, rice was sent to Bengal from Kalahandi. Recurring droughts in a district like Kalahandi, once considered the rice bowl of Orissa, drive home the urgent need to rethink the centralised development paradigm of the Indian state.

At one time, all the famine-affected districts in Bihar and Orissa were heavily forested. These humid forests led to showers almost daily, keeping the region moist and cool. The monsoon in the region has not reduced considerably, but with the forests gone, the micro-climate has been altered totally.

In Palamau district of Bihar, the main sources of irrigation and drinking water -- the Amanat, Jinjury and Koel rivers -- have dried up. Of 3,530 hand-pumps in Palamau, 2,000 have gone dry. Even in Daltonganj, the district headquarters, people buy water at Rs 20 for 600 litres. Truant monsoons have made the people, especially women, walk two km to dig for water in the dried river beds. But even the water in these holes, called chuals, is drying up.

Palamau gets 700 mm of rainfall annually, but with dwindling forest cover, the area has become drier. Farming is carried out on 15 per cent of the total area and is the main occupation of 80 per cent of the people. The district is endowed with bauxite, coal, granite, magnesite and dolomite, but has no industry worth its name.

Even animals have been affected. Forest officials say hardy animals like monkeys and antelopes are starving to death. Although authorities have been supplying water to Betla National Park by tankers, most of the 80,000 animals there, including 55 tigers, have migrated to Ranchi and Singhbhum forests.

Of Orissa's famine-hit districts, six tribal- dominated ones -- Kalahandi, Koraput, Bolangir, Malkangiri, Phulbani and Rayagada -- have witnessed recurring droughts since 1965. In Kalahandi, the water table has receded by more than 25 metres and the people are forced to drink dirty drain water. Even district headquarters have gone dry and the administration is unable to provide adequate tubewells. Says Harichandra Parabhay, a landless labourer of Pokhrighat village, "We trek about three km to get water from holes dug in the dry river bed."

Kalahandi averages 1,316 mm annually in rainfall, but it is erratic, and, along with a lack of water-harvesting structures, causes crop failures and floods as devastating as droughts. There were floods in 1965, 1977, 1980, 1987, 1988 and between 1990 and 1992. The region is endowed with rich resources like graphite, quartz and precious stones. Of the total cultivable land, 13 per cent is black soil, 6 per cent alluvial and 9 per cent red and black soil.

Besides starvation deaths and the sale of children, a consequence of the famine in both Orissa and Bihar is large-scale migration. "More than 60,000 people have migrated from Bolangir alone since September 1992," says Pattanayak. Since the administration hasn't compiled figures, Pattanayak speculates more than 100,000 people have migrated to Raipur and Bilaspur in Madhya Pradesh, Nizamabad in Andhra Pradesh and Nagpur in Maharashtra. M D Moses, secretary, planning and coordination, in the cabinet secretariat, who led a central team to Orissa, says, "The migration is not out of choice."

In Bihar, migration of tribals from famine-affected Chotanagpur region to Calcutta, Bokaro and Jamshedpur is common.

Nayak says the famine in Orissa has been caused by massive deforestation. "Short-term ameliorative measures, funds or the politics arising from it will not help find a solution to the crisis," says Nayak. "One has to understand the ecological roots of the disaster to find a solution."

Today, the forest cover stands at 32 per cent, thanks to the massive deforestation that began in the region in 1965, according to Nayak. The deforestation has added to the unpredictability of the rains, which have become a curse for the people. P M Mahapatra, principal secretary to Orissa chief minister Biju Patnaik, explains, "Without tree cover, there is extensive run-off when it pours in July and August, marooning the rivers downstream and causing drought upstream."Last year, rivers in spate filled about 9,000 ha of tillable land with sand.

Vicious circle
S K Aggarwal, a geographer at Delhi University, agrees, "Kalahandi,is caught in a vicious circle of poverty and unemployment." Poverty has become self-perpetuating in the absence of ecologically sustainable, culturally acceptable and equitable development.

Erosion and silting up of traditional rainwater-harvesting structures systems such as cuttas and mundas, repeated crop failures and the usurping of tribal land by gountias (feudal landlords) and traders, increased pressure on tribals to look to the forests to earn a livelihood. This led to large-scale tree-felling. Government contractors, too, began exploiting sal and teak forests for commercial purposes.

Today, tree-felling and collection of firewood is done mainly by the tribals for smuggler-traders, in exchange for subsistence-level earnings. Timber is smuggled in virtually all these districts and the fact is acknowledged openly by district administration officials and MPs in Delhi. The major culprits are traders who supply markets outside Orissa and local paper and wood product factories. Some of these industries are also believed to be directly involved in wood smuggling.

Wood is also illegally collected for construction and other purposes. A large part of the smuggled firewood goes to brick kilns. The large-scale felling in western Orissa can be seen not only in remote and reserved forests, but also along the roadside.

All the efforts and money spent by the state on afforestation have been fruitless. The local people have not been involved, so they don't see any tangible benefits accruing to them by maintaining the saplings.

Forest department sources claim more than Rs 50 crore was spent in Kalahandi during 1985-90 for afforestation under social forestry and other programmes. The soil conservation department has spent nearly Rs 87 crore in the past 10 years on agro-forestry and various plantations.

However, P K Jena, a former sub-collector in the district, presents a different picture of the Drought Prone Area Plan (DPAP) in Kalahandi, which recently caused an uproar in the state assembly for its critical view. Jena says 60 per cent of the trees planted under DPAP died in the first year because of lack of maintenance. For instance, nothing in the 500-acre plantation started near Kushmal village four years ago, survives today. The villagers say the trees "died on their own for lack of care".

Similarly, in Bagdiani village where afforestation began only last year, none of the trees survived and 28,000 saplings have been requisitioned this year for replacing the dead ones. Closer to the district headquarters, Bhawanipatna, Rs 35 lakh was spent about five years ago for renovating Ashasagar, a big tank traditionally used for irrigation and plantation. Today, there is no sign of the plantation there.

In Koraput, 25,544 ha has been brought under plantation in the past six years. The soil conservation department had by March 1992 done different types of soil plantations on 42,728 ha. However, the new plantation area of 24,544 ha is actually within the total forest area of 8,87,000 ha and therefore, "there is practically no physical increase in the forest area whatsoever", points out a report prepared by soil conservation officials. "The progress in plantation is insufficient to make good the rapid loss on account of accelerated deforestation in the district."

The survival rate of plantations in Bolangir is also very low, estimated at between 5 and 20 per cent by various forest department officials.

Relief work
In Bihar, hardly any relief work seems to be on. A Congress party central team headed by Janak Raj Gupta, a former MP, visited 25 affected blocks in the state recently and observed that the state government had not started any relief measures -- small farmers are selling cattle to ensure subsistence and young people have migrated to other districts to earn their livelihood.

The Orissa government white paper claims paucity of funds hinders permanent famine prevention, but says the government has taken steps to ensure nobody dies of hunger. It also promises severe action against district collectors if cases of starvation deaths and sale of children are reported.

The white paper claims a massive labour-intensive programme has been launched not only to provide wages to the famine-hit, but also to take long-term, drought-proofing measures. It claims to be implementing various Jawahar Rozgar Yojana schemes and special drinking water projects to provide quick relief. Moses said 45 anti-poverty schemes have been implemented in the area. During his visit, Narasimha Rao announced the revival of Area Development Approach and Poverty Termination in Kalahandi and Bolangir, which had been launched by late Prime Minister Rajiv Gandhi in 1987 and was folded up by the Janata Dal government in 1989. But, according to Nayak, "All these schemes exist only on paper. The politician-bureaucrat-contractor nexus misappropriates the funds, of which not even 5 per cent reaches the people."

Bihar chief minister Laloo Prasad Yadav claims large-scale relief work has been undertaken. Many private and government institutions in the state have come forward to help. Local subsidiaries of Coal India Ltd have drilled tubewells in many villages and Central Coalfield Ltd has contributed Rs 14 lakh towards the relief work. A local NGO, Sukha Rahat Committee, has adopted some villages, while another NGO, Chotanagpur Vikas Sansthan, has donated Rs 1,000 to each of 60 villages for digging wells in river beds.

In Palamau, the administration has floated innovative "green card" and "red card" schemes to combat famine. A green card worth Rs 250 enables a donor to help a starvation victim get 3.5 kg of foodgrain a week for the crucial three-and-a-half months. A red card is issued by the administration to victims entitling them to 3.5 kg foodgrain a week.

Innovative schemes
"But this is not enough," says Janata Dal MLA Ranendra Pratap Swain. "There is money for state officials to fly between Patna and Daltonganj thrice a week, but there is no money to save dying tribals."

In 1990, at a lecture on the Global Hunger Project in USA, economist Amartya Sen had said, "Public action to combat hunger has to be seen as an action by public and not just as state-action for public." But in Orissa and Bihar, there is not even a semblance of the states taking any action.

The crisis in Orissa and Bihar once again stresses the need for a national policy on drought. There are 70 drought-prone districts in India, with 19 per cent of its population, which were marked by a Central task force for rural development in 1971. The task force had warned the Centre against dragging its feet on the national drought policy. But the government is used to doing what it is warned against. Those who survive such crises manage to do so because of their own resilience or coping mechanisms.

Narasimha Rao is drawing up an action plan for long-term relief to the affected areas. The cabinet secretary is also busy formulating perspective plans. "The new plan," says Pattanayak, "will integrate many development programmes and introduce new ones involving afforestation, water-harvesting, revitalising degraded land and health schemes backed by a strong PDS."

Aggarwal suggests, "Assured irrigation may bring prosperity back to the region. But for that, the people must be allowed to revive their traditional water-harvesting structures and the government must build medium and major irrigation projects." Kalahandi is crisscrossed by several rivers -- Udamti, Rahud, Indravati, Sunder and the Tel. Small and big dams on these seasonal rivers would bring good times once again, provided the state government stops discriminating against the people of western Orissa.

Observers say relief policies won't work unless the people's traditional institutions are revived. Tribals in the affected areas, in Orissa as well as Bihar, regulated the use of the environment through traditional assemblies. The Kondhas of Kalahandi had their pancha, which also laid down rules for the use of cuttas and the mundas, while the Oraons of Chotanagpur had a village assembly called the baisi. With the advent of elected panchayats, these assemblies have died a slow death, contributing to a decline of water-harvesting structures and other forms of ecological management.

But will the government revive these institutions again, so that the environment is regenerated?

---Reported by Kanti Kumar Bit in Bhubaneswar, Amit Mitra and Shailendra Kumar.
Related Content