Venice in peril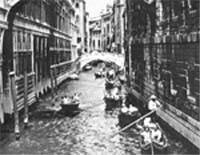 the landmark for Venice may also be its nemesis. The floods that submerge Venice's streets, with which the city is identified with, may drown this historical city one day. Floods have of late become more frequent. In early 1980s, St Mark's Square - the city's lowest point - was flooded 40 times and in 1996, it was flooded twice a week.

Even as Venice is on the verge of being drowned, nothing substantial has been done to evolve a strategy for the future. Earlier, a law was enacted to stop the pumping of groundwater to save the city from sinking at a very fast rate.

Now, there is a proposal by three flood scientists who suggest raising walkways and installation of moveable steel doors across the entrances of vulnerable buildings. The scientists say that with these measures the city would remain unaffected by 90 per cent of the floods that it witnesses.There is also a plan to build barriers into the beds of channels that lead into Venice's lagoon. With this, on the onset of flooding, the water level would be stabilised.

Robert Frassetto, Venice's chief flood expert since 1971, supports the later proposal saying that barriers are already being designed and tested and should be implemented. The proposal is estimated to cost us $1.9 billion.

The city is also receiving many proposals to control the floods. But none of them are being considered for implementation. Meanwhile, the city has to live with its perennial floods.