Bad blood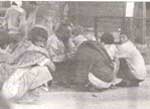 A committee of transfusion medicine experts has suggested that accepting blood from professional donors be immediately suspended because of the risk of infection. This has put the Union health ministry in a fix because there is a major shortage of blood at the blood banks and more than half of the country's blood demands are met by professional donors.

The committee, set up the ministry last month, is studying the inadequacies of the blood banking system in the country and, after submitting the report in March-end, will initiate the reorganisation of the existing infrastructure. It was set up following a Supreme Court directive on a public interest litigation filed by Common Cause, an organisation that takes up public causes. In its petition, Common Cause had contended that blood donated by professional donors carried a high risk of infection. The inadequate checks on the quality of blood, poor storage facilities and trained personnel at a majority of unlicensed blood banks enhanced the risk of infection.

Says J G Jolly, consultant in transfusion medicine and a committee member, "The committee will visit medical colleges in various states, blood banks, drug controllers and the directorate of health services in different states to create a databank and crosscheck it with that available in government institutions." The committee has specifically been asked to ascertain the levels of adherence to the norms at most of the banks.
Related Content