Clean up time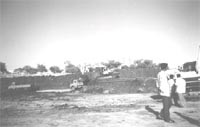 For years, residents of Gujarat's Saurashtra region have been demanding allocation of funds for desilting its numerous lakes and ponds. Till late, their appeals fell on deaf ears. The government maintained that desilting old ponds was not economically viable. It was cheaper to build new ones, it said. Not that they built any.

The people of Jamnagar have now taken matters into their own hands and desilted Lakhota talav this summer. This summer, volunteers of Lakhota Jalsanchay Abhiyan Samiti desilted the lake for the first time in the 100 years. Covering an area of more than 50 hectares, with a water-carrying capacity of over 1 million cubic metres, Lakhota is located in the heart of Jamnagar city. Water collected in the lake will recharge numerous tubewells and borewells in the city. "We will not let the Lakhota dry up ever again,' says Deviprasadji Maharaj, president of the samiti.

Lakhota is in the truest sense a people's movement. The cost of desilting Lakhota by around 1.5-4.5 metres was estimated at Rs 4.5 crore. This amount was put together by the citizens, social and religions groups, a local cooperative bank, industry associations, the municipal corporation, local politicians and the police. Even, the government chipped in. "The people of Jamnagar started the project. It was the need of the time,' says H G Tanna, vice president of the samiti.

The alluvial topsoil is being collected by farmers to be used as manure for their fields. Stones and pebbles from the lake are being used to expanding highways and levelling land in the city. Following Jamnagar's footsteps, citizens' groups in Rajkot, Amreli, Gadar and Bhuj districts are now taking up the task of repairing old ponds and reservoirs.
Related Content