Glaring aberrations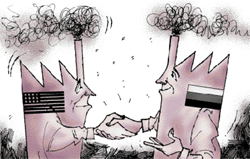 in the wake of the ban on hoardings in Delhi, hoardings at bus shelters which use diesel gensets for lightning, have become a major source of air pollution. Around 1,200 bus-stop shelters have been leased out by the Delhi Transport Corporation ( dtc ), 30 per cent of which are using diesel gensets to illuminate the billboards. These gensets not only emit hazardous fumes but also increase the level of noise pollution.

An average generator has a capacity of 5 kv. The air and noise pollution caused by them pose a serious health risk to the commuters at these stops, and also to those who operate the generators. "Their usage, voltage and even numbers has gone up dramatically in the last three years,' says Pawan Kitchlue, general manager, Enterprise Nexus Communications Private Limited, New Delhi.

Diesel gensets are very popular because the rules concerning their usage are vague, says an official of the New Delhi Municipal Corporation ( ndmc ). However, a December 1998 notification of the Central Pollution Control Board for the noise pollution, says that all diesel gensets with a capacity of 5 kv or more are required to fit acoustic enclosures to reduce the noise pollution.

In November 1997, the Supreme Court banned hoardings in Delhi because of their uncontrolled growth and role in causing traffic problems. Since then the size of the billboard market in Delhi has flourished. The annual turnover of the industry is said to be around Rs 25 crore. "The dtc authorities who, in conjunction with the mcd and ndmc float tenders for the sites, benefit from the unauthorised revenue received for generator installation,' says a source on condition of anonymity.

"As the government is not supplying power for lighting these billboards, the vendors are using gensets. This problem does not exist in Mumbai and Calcutta,' says Kitchlue.

Most of the vendors find it cheap and convenient to light billboards with the help of gensets than to use electricity provided by the government, he says.

Some of the agents have tried to light their billboards with the help of solar panels but they do not find it a viable proposition. "The government seems to have closed all door for talks to find better means of outdoor communication. Talks between the users and providers of sites and the government would have certainly helped industry find an alternative to polluting gensets,' says Gautum Chadda, senior consultant, Ogilvy & Mather ( o&m ), an advertising agency.