Fading beauty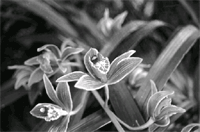 nothing in science can account for the way people feel about orchids. Orchids seem to drive people crazy. Those who love them, love them madly, wrote Susan Orlean in Orchid Thief: A true story of beauty and obsession.

However, sadly these beautiful flowers are becoming a rarity day by day, losing out to human greed. Not many seem to be bothered for they are not even aware that a majority of the orchids come from north-eastern states of India. Arunachal Pradesh itself offers over 500 species of the exotica. Of the 1,100 species of orchids found in India, the Himalayan belt itself is home to more than 750 species.

Orchids are not only important for their aesthetic value but also because they work as ecological indicators. "Their disappearance indicates a change in the quality of soil and air of the region. The ubiquitous blue vanda of Cherrapunji has disappeared due to the degradation of the environment. Orchids are mainly shade-loving. Therefore, they have no chance of survival once forests are cleared,' says A R K Sastry of the Worldwide Fund for Nature-India (wwf-I ndia). "We are lucky to be blessed with tropical to alpine vegetation in addition to heavy rainfall and high humidity which make it a suitable habitat for these lovely plants,' says Ashiho A Mao, an orchidologist at the Botanical Survey of India in Shillong, Meghalaya.

"Tourists arrive here with huge gunny bags and collect orchids. Over extraction leads to degradation,' says Chawngthantluanga, Mizoram's sole orchidologist. He adds that while clearing forests for cultivation, many orchid-bearing trees die. This is a major problem in Mizoram because jhum cultivation (shifting cultivation) is very popular in this state. Orchids are also threatened by overgrazing of livestock, construction of roads, dams, bridges or natural factors like forest fires.

The changing pattern of rainfall and decrease in the forest cover at Cherrapunji have also contributed to their decline. "Rainfall is decreasing every year. This affects the growth of orchids that thrive in regions with regular rainfall,' says Sastry.

The popularity of orchids is a story in itself. A uk -based company, Sanders Orchids Company, offered a handsome reward to anyone tracing Paphiopedilum fairrieanum, a rare orchid. This particular variety was on the verge of extinction in many of its habitats between 1900-1905. Its existence was later reported somewhere in the vicinity of the border of Arunachal Pradesh with Bhutan. After this, the variety came to be known as the Lost Lady's Slipper.

Orchids are popular for their healing properties too. Vanda parviflora is said to have anti-viral and anti-cancer properties.

Orchids are a protected species under the Convention on International Trade in Endangered Species (cites). Under Schedule vi of the Wildlife Protection Act (1972), all the nine species of Lady's Slipper can only be sold if they are grown in registered nurseries. According to the wwf-I ndia , 1.5 million orchids are harvested every year and three million enter the world trade. "Among Indian orchid species Cymbidiums, Dendrobiums and Vandas are endangered,' says Sastry.
Saving the orchids In order to save the wild orchids from further destruction, wwf-I ndia and the Itanagar-based State Forest Research Institute have identified three or four species of commercial orchids. A mass cultivation programme began in 1994. Seedlings obtained from Arunachal Pradesh were planted in greenhouses. Later, they were distributed among the local people. "Women in particular are encouraged to take an interest in cultivation of orchids on the degraded jhum lands,' says Sastry.

"The Manipur government has an orchidarium, but plantation is not done on a massive scale like in Arunachal Pradesh. However, the Manipur Agricultural University multiplies seedlings through tissue culture and supplies them to farmers on a large scale,' says Mao. The International Union on Conservation of Nature (iucn) has set up an Orchid Specialist Group under the Species Survival Commission (ssc) with objectives like conservation, data collection, research, creation of public awareness and promotion of conservation strategies. An Orchid Research and Development Centre (ordc) was established at Tipi, 65 km from Tezpur, in 1972. The centre has also established an orchid sanctuary spread over 100 sq km at Sessa in West Kameng district. The aim is to preserve about 200 orchid species in their natural habitat. ordc has discovered 28 new species, including a genus, India A N Rao . The centre has also developed 15 new orchid hybrids. Five of them have already flowered and one Renades Arunodaya has been registered with the Royal Horticultural Society in London.

One of the aims of ordc is commercialisation of orchids involving the local tribals. Three commercial orchid farms have been developed under this scheme. The Tissue Culture Laboratory at Sessa supports the programme. Tissue culture is vital for the propagation for the orchids.

"Orchid species like Paphiopedilum, Arachnis, Cattleya, Cymbidium, Dendrobium, Phalaeonopsis and Vanda of the northeast have a very good potential in the international market. They can earn as much as us $2 to 3 million each year,' says Mao. They also have a very good market because of their medicinal value. "The tubers of Orchis latifolia are reported to have medicinal value,' says Sastry.

"However, businessmen are apprehensive about investing in the region because of insurgency and poor infrastructure. The absence of an international airport in the area is also hindering foreign trade,' says Mao. In 1992, the National Bank of Agriculture and Rural Development offered a loan of Rs 3.2 crore to the Mega Orchid Limited in Shillong. They tied up with Singapore's Multi Company to start production. But, the project never took off.

"To start large-scale plantations we need to get funds to develop a well-equipped laboratory,' says P H S Bonney, the divisional forest officer in Shillong. Now, a small tissue culture laboratory exists under the forest department of Shillong.

In spite of the diversity, many species are yet to be discovered. The reason: difficult terrain. Efforts made to collect rare taxa have often been unsuccessful due to lack of manpower, research and funds.
Related Content