Operation Everglades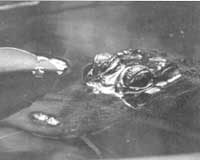 THE US Army is not all about Stinger missiles and guerrilla warfare. Its Corps of Engineers are about to embark on what has been labelled as the 'the largest environmental restoration project ever' - to spend some us $7.8 billion to restore the Florida Everglades to their lost glory.

Their plan to dismantle a system of canals and levees built earlier to drain the marshes and make these suitable for agriculture and building would cost a formidable portion of the money, they say. Ironically, these levees and canals were built by the Army engineers themselves over the last 50 years. The restoration plan covers some 28,000 sq kin, from Orlando to the Florida Keys, including Lake Okeechobee - the US's third largest freshwater lake - and the Kissimmee River. "Nothing of this scale has ever been attempted," said Ron Tipton of the Worldwide Fund for Nature, Washington, USA (Earth News, Vol 12, No 123).

Over the last 50 years, the Kissimmee River has been converted from a meandering river which fed thousands of hectares (ha) of wetlands into a straight canal that drains water from land rapidly. Lake Okeechobee has been connected by drainage canals to the Atlantic Ocean to the east and the Gulf of Mexico to the west. Further, a system of canals and levees has channelled water away from wetlands, disrupting the natural hydrological cycle.

This has halved the wetland habitat within the Everglades, put 68 species on the threatened or endangered list and decreased populations of wading birds by as much as 90 per cent. It has also begun to mean water shortages for the six million people living in Florida. The Army plan will try to restore a more natural water cycle. To accomplish this, 800 kin of canals will be closed and 68,000 ha of agricultural land will be turned into reservoirs and wetlands.

The final plan will be submitted to the US Congress in July 1999 after public comment. Then Congress will have to authorise funding and may even pass a law empowering the Army to buy land.
Related Content