Furore over Zimbabwe`s selection as head of UN body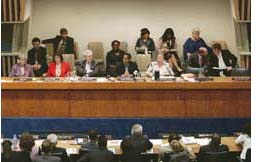 Zimbabwe's election as the head of an important un environment body has generated much controversy. Francis Nhema, the country's minister of environment and tourism was nominated by Africa to head the un Commission on Sustainable Development (csd). He was elected by a 26-21 vote to head the 53-member body on May 11. But the verdict has not gone down well with the European Union (eu) and many other western countries.

Zimbabwe's government has been widely criticised for mismanaging the country's economy. The inflation rate is above 2,000 per cent (the highest in the world), the once-thriving agriculture sector is in shambles, food shortages are acute, and the country has a poor record in protecting human rights and forests.

"The election of the representative from a country that has decimated its agriculture puts a question mark on the credibility of the body,' said the us representative to the commission Dan Reifsnyder. Ian Pearson, uk minister for climate change and environment agreed, "Zimbabwe's election will outrage millions who look to the un for help to escape from poverty.'

Zimbabwe's President Robert Mugabe, the country's head since its independence in 1980, denies mismanaging the economy and blames Western sanctions for the country's troubles. Germany said Nhema's dealings with the eu could suffer due to the union's travel ban on Zimbabweans. Nhema's choice as the head was also contested. Nhema's farm is said to be in ruins after it was seized from a white farmer in 2002 as part of a campaign to redistribute white-owned farms among landless blacks. Nhema dismissed the allegations: "It's not the time to point fingers. Each country must chart its own path. There is no perfect method.'

csd was set up by the un General Assembly in December 1992 as a follow-up of the 1992 Earth Summit in Brazil.