Performance pays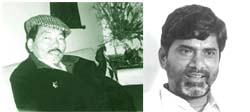 in the recently-concluded assembly elections, the Sikkim Democratic Front , led by Pawan Kumar Chamling, was returned to power in Sikkim winning 24 out of the 32 seats in the assembly. Chamling was rated as the greenest chief minister in a recent survey of Down To Earth readers which was conducted by the Centre for Science and Environment ( cse).

N Chandrababu Naidu, the chief minister of Andhra Pradesh, who was rated third in that survey, also fought the anti-incumbency wave to be re-elected. His re-election also proves that his policies have been successful at the grassroots level. His alliance secured a two-thirds majority in the 294-member House.

The results perhaps indicate that if one takes care of the environment, the environment will take care of the people and the people will in turn vote for you. In his first term as chief minister, Chamling initiated a number of environmentally-friendly measures. He banned the use of plastics after the landslides in Gangtok in 1997. He also stopped grazing in high-altitude pastures and forests. Commercial felling of timber as well as smoking in public places was banned. A large number of afforestation projects was started by the forest department. Social forestry are being carried out by the panchayats.

Naidu, on the other hand, has led by example. His Janmabhoomi project is modelled on the participatory approach. The project limits the role of the government. He has taken a personal interest in the protection of waterbodies, botanical gardens and the renovation of village tanks. He also encouraged afforestation and water harvesting programmes.

Earlier this year, the chief minister of Madhya Pradesh, Digvijay Singh, who was rated second in that survey, also managed to retain power in his state. His initiatives include the setting up of voluntary organisations for watershed management projects and the implementation of the Panchayati Raj to give power to the people, thus reducing the role of the government.
Related Content
Order of the National Green Tribunal regarding responsibility of the state to check hazardous industrial activities operating without requisite safeguards, 23/03/2021
Order of the National Green Tribunal regarding violation of environmental norms by Triveni Sugar Mill, Rampur district, Uttar Pradesh, 15/03/2021
Order of the National Green Tribunal regarding illegal mining and stone crushing units in Rajmahal hills, Sahebganj, Jharkhand, 23/09/2020
Order of the National Green Tribunal regarding polluting dyeing industries in Faridabad, Haryana, 21/08/2020
Order of the National Green Tribunal regarding stone crushers operating illegally in Moda Pahad, Jhunjhunu, Rajasthan, 04/05/2020