Officials gloat over eviction of tribals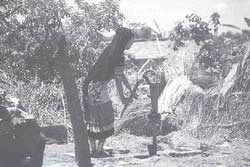 AUTHORITIES at Dudhwa National Park are wallowing in smugness at the ease with which they evicted tribals who occupied forest land near the park. Boasts Lakhimpur-Kheri superintendent O P Singh, "Without even raising a baton, we deported the encroachers to Bichhia."

Sixty-two tribals were arrested. Although the deportation exercise went off smoothly, it came too late: the encroachers had felled thousands of valuable sal and katha trees bordering the park -- the only biodiversity habitat in the terai region -- to make way for farmland and huts.

The tribals, who left Bichhia on May 18, were first spotted by a forest guard at Dudhwa on May 21. But the authorities were too preoccupied with a Congress political convention in Kathuara to take notice. It wasn't until June 1 that the Provincial Armed Constabulary was sent in to evacuate the villagers.

The incident threw up some questions: Who were the encroachers? Is the forest part of the park? And, is park preservation more important than human survival?

Although Asad Rahmani, grassland ecologist from Aligarh University, admits the forest is outside the park, he insists the area acts as a buffer. The tribals say the forest is vital for them, too, because they were displaced by a dam on the Ghagra river 20 years ago and have not been paid compensation or rehabilitated.

Deputy conservator of forests A K Helen disputes the tribals' claim and says they were migrant labourers from eastern Uttar Pradesh who worked on the Ghagra barrage. After the dam was constructed, they settled down on the Ghagra banks at Bichhia and took up farming, but their fields were submerged when the river changed course a few years ago.

Regardless of who the encroachers are, it is generally agreed Dudhwa is the only chunk of public land -- and one that is fertile -- available for resettlement. Rahmani points out the area is used as a pasture for the livestock of nearby villages. The Centre for Wildlife and Ornithology had warned the park would be endangered if the "intruders" were not removed. Says Helen, "Because of this, the forest department evicted the encroachers."

Helen suspects local politicians and mafias were trying to grab land. A forest official claimed a former legislator was spotted often in the encroached area.

Political patronage or not, it is clear the confrontation between the park authorities and the landless of Bichhia is far from over. The tribals are determined to occupy the patch. Despite the official smugness, next time the eviction may not be so easy. Warns Bhagwan Chauhan, leader of the Bichhia tribals, "No one can remove us."