Brain fever politics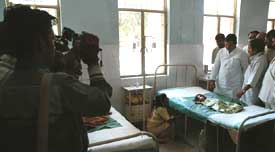 August 17: Jaiveer Singh, minister of health, Uttar Pradesh (UP), emphasises fogging and mosquito control. He states vaccines are feasible only in highly affected areas like Gorakhpur, Maharajganj and Kushinagar

August 18: T V Rajeshwar, UP governor, says the situation could have been averted if vaccines had been used

August 19: Neera Yadav, chief secretary, promises free treatment to JE patients

August 20: Jaiveer Singh visits Gorakhpur with S P Agarwal (director general, health services, Union ministry of health and family welfare), Shiv Lal (director, National Institute of Communicable Diseases) and P L Joshi (Director, National Vector Borne Disease Control Programme)

August 21: Vinod Singh, state minister for medical education, assures BRDMC patients that all facilities would be made available. Ramapati Ram Tripathi, state Bharatiya Janata Party general secretary, demands a research centre on JE be started, and that treatment should be available at the Public Health Centre level. Neera Yadav meets experts from Delhi and Lucknow; final decision on solutions to be taken after a September 27 meeting in Lucknow

August 23: Syed Altaf Hussain, district Congress general secretary, asks the district and municipal administrations to control the movement of pigs

August 27: Salman Khurshid, senior Congress leader, holds UP responsible

August 29: P L Joshi and A K Dutta (Head, department of paediatrics, Kalavati Saran Children's Hospital, New Delhi) monitor fogging in villages. Suggest more machines need to be called in. The Bahujan Samaj Party blames the state government for deaths; even the CM, it says, has not bothered to visit eastern UP. In Lucknow, Mulayam Singh Yadav asks the Centre for 7.5 million vaccines

August 30: Sriprakash Jaiswal, Union minister of state for home, holds UP responsible. Promises the Centre will give 7.2 million vaccines for 2005. Suggests immediate control aerial fogging. The state legislative assembly speaker assures free treatment.

August 31: Anbumani Ramadoss, Union minister of health and family welfare, provides a Rs 11 crore package to help tackle the disease. The package includes 10 ventilators, 100 fogging machines and medicated bed nets.

September 6: Centre rushes 151,250 treated bed nets to Gorakhpur. Distribution occurs only after 2 days

September 7: Rahul Gandhi promises the Congress will provide a helicopter for aerial fogging of affected areas.

September 9: Jaiveer Singh re-visits Gorakhpur; promises Rs 116 crore to complete hospitals by March 2006.
Related Content