Bare facts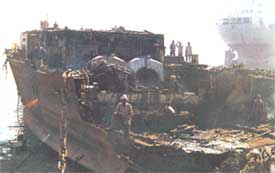 baleshwar, 24, will never walk again. While scrapping a ship at one of the 183 shipbreaking yards at Alang in district Bhavnagar, Gujarat, he fell from a height of 10 metres, suffering multiple fractures in his legs. His one-year tenure at the shipbreaking yard has also left Baleshwar with respiratory complications due to constant exposure to toxic fumes. This is Alang: not just another human tragedy in the morning newspaper, but an environmental nightmare come true.

At this largest shipbreaking yard of the world, nearly 45,000 workers scrap ships that sometimes contain hazardous wastes. According to the Gujarat Maritime Board (gmb), Ahmedabad, it cannibalises about 200 ships each year, churning out 2.6 million tonnes of scrap steel.Alang receives ships from across the world - even those which are not broken in the country of origin due to several environmental strictures, as shipbreaking involves a large number of dangerous pollutants including toxic wastes, oil, polychlorinated biphenyls (pcbs, which are extremely poisonous chemicals) and heavy metals. But the ships can be scrapped at Alang as environmental guidelines are not followed properly (see box: Send your garbage).

The Basel Action Network (ban), a coalition of international non-governmental organisations, working in the field of toxic and hazardous wastes, is of the opinion that there is a need for international legislation on shipbreaking. "Ships bound for breaking in another country must necessarily be detoxified in the territorial waters of the country to which the ship belongs," says an Indian spokesperson for ban. "What is happening is that Indian waters are the recipients of muck that originates in other countries," he adds. ban demands that ships destined for breaking be termed as "hazardous wastes" under the Basel Convention.

Anyone disputing the environmental hazards from the shipbreaking industry needs to visit Alang. The sun is hazed by smoke billowing from gas torches used to cut through the steel by labourers. They dump tonnes of chemicals, heavy metals and other dangerous substances recovered from the ships into the sea. The 10-km coastline is a hellish heap of scrap. "In our study, we found about 45 tonnes of solid wastes, broken steel pieces, glass wool, foam material and rubber pipes spread haphazardly within the plots each day," says S S Bala, zonal officer of the Central Pollution Control Board (cpcb) at Vadodara, who led a study on pollution levels at Alang. The wastes contain hazar-dous materials like oil, pcbs and heavy metals. It results in severe contamination of the seabed, points out Bala. Heavy metals on the seabed enter the marine food chain, finding their way into the fish eaten by humans.
Related Content