Costs threaten future of green army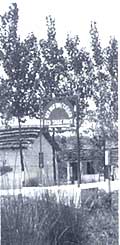 WHEN ARMIES march, they usually leave a trail of barren, brown desolation in their wake. But in parts of Jammu and Kashmir, Rajasthan and Uttar Pradesh, former Indian army personnel are embarked on greening projects involving the most degraded tracts. Operating as units of the so-called Eco Task Force (ETF), the scheme to use ex-servicemen to regenerate the environment is the first of its kind in the world. But, of late, the ETF project seems doomed because of a Centre-state dispute over finances. The scheme has been fully funded by the Union environment ministry, but now it wants the three beneficiary states to share half the costs -- something none of the states is willing to accept.

ETF Samba, which has been operating for more than three years, is the youngest of the three units and consists of 140 ex-jawans working in the highly eroded Kandi Shivalik range, about 45 km from Jammu. Their goal is to restore vivid green to a 10 km-by-4 km stretch that covers the watershed areas of the Rui and Teri nullahs, whose beds have widened to three times their size 50 years ago because of siltation. Col M S Poonia, who commands ETF Samba, explained: "The siltation was so massive that it would have buried the bridge in a few years." Undeterred by the heat of summer, trench-digging in rocky terrain and the danger from snakes and pythons, the task force has covered a barren hillock near Mananu village, by successful planting since 1988, with lush green vegetation so thick it would be difficult to walk through it.

More than 10 lakh trees have been planted by ETF Samba, and an expert panel headed by Kirti Singh, vice chancellor of Himachal Pradesh Agricultural University, estimates the survival rate to be as high as 90 per cent. The planting has taken place in 1,375 ha out of 2,623 ha targeted from a total catchment area of 4,735 ha. "A survival rate of 90 per cent is really a great achievement in the dry Kandi Shivaliks, where the temperature frequently rises to 46 O C, taking a heavy toll of the tender saplings," commented Maj Gen (Retd) Goverdhan Singh Jamwal, who played a key role in setting up the first ETF. It was formed in Shahjahanpur, UP, in 1982, and after completing its task locally, moved to the Mussoorie hills near Dehra Dun to rehabilitate the land degraded by mining activities. The second ETF was raised in September 1983 and was awarded the Indira Priyadarshini Vrikshmitra Award six years later for raising a thick plantation strip about 50 km long and upto two km wide on the eastern bank of the Indira Gandhi Canal in the Bikaner area of Rajasthan to save it from siltation.
Free fodder The regeneration work undertaken by ETF Samba has focussed on neutralising increasing demands for fuel and fodder, which were the main factors that led to deforestation in the Kandi Shivaliks. Despite initial resistance to fencing and planting by the ETF, local residents are all praise now because they get all the grass they want at no charge. ""We used to buy a small bundle of grass for one rupee to Rs 1.50 for our cattle," said Chunilal of Druhee village. "Now grass is in plenty and (we) can take as much grass as we want." The only rub is that cattle are not allowed to graze in the enclosures; their owners must obtain permits to cut as much grass as they need, which in 1990-91, amounted to 5,300 tonnes, and last year, to 4,100 tonnes.

The ex-servicemen have also gone in for extensive planting of a variety of trees and even experimenting with some species that are not native to the area. The Rui and Teri watershed areas now boast of tall groves of bamboo and stands of sheesham, Acacia catechu, kikar, chir, kachnar, pipal and siris. Fruit trees planted by the task force in the area include mango, jamun, guava, lemon, lokath, ber and amla. Some of the fodder and firewood varieties planted by the task force are subabul, Israeli babool, Prosopis juliflora and jungle jalebi. Poonia disclosed that the pace of tree-planting is well ahead of schedule. "We have covered about half of the target area and the rest would be over by this December, about a year ahead of schedule," he said.
Money matters The high cost of these eco-battalions has prompted a financial dispute between the Centre and the three states. After fully funding the units since their inception, the Centre asked the three states this year to meet half the costs of the ETF operating in their jurisdiction. The response was swift and clear-cut. "There is no question of our sharing the costs," said N R Gupta, commissioner-cum-secretary of forest, environment and wildlife departments in Jammu. "If that were to come, I would say take away even the existing company. It is a very costly affair. I shall raise my own eco-battalion in the state sector."

Though the financing issue has been put into cold storage for at least one year, following the Centre"s announcement that it would bear the full costs of the eco-battalion through 1992-93, the issue is sure to arise again, if only because of the high costs involved. According to financial data from 1988 to 1991, analysed by the Kirti Singh panel, the ETF Samba"s cost per hectare worked out to Rs 52,716, compared with Rs 14,244 per hectare spent by the state forest department on similar regeneration work elsewhere. But the forest department calculates that if the cost of material inputs such as fencing wire and poles provided by it were added to ETF Samba"s expenses, the department"s costs would come down to Rs 10,000 per ha and that of the eco-battalion would rise to Rs 56,000 per ha.

The Kirti Singh panel held the main reason would seem to be differing pay scales and terms of employment. The state forest department hires casual labour, whereas ETF personnel are full-time employees earning about Rs 1,600 per month, with free messing and lodging facilities, pension benefits, insurance cover of more than Rs 1.5 lakh and three months of earned leave.

Eco-battalion work is costly," conceded Jamwal. But, he insisted, "It is enduring. The forest department work does not stay for long."
Related Content