Bridge over troubled waters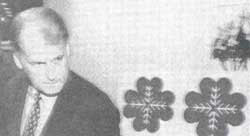 TEMPERS are running high over the proposed Oresundsbron bridge-and-tunnel link for automobiles and trains between Sweden and Denmark. The link -- meant to reduce travel time between Malmo in Sweden and Kastrup in Denmark -- will cost a whopping $10.01 billion with grandiose features like artificially-created islands and an underground tunnel. The plan was condemned as "wrong, dangerous and unnecessary" by Swedish environment minister Olof Johansson as he stepped down from office over the issue in June.

Describing his decision to resign as a "personal stand", Johansson nevertheless made it clear that his functioning as environment minister was hindered by the government's obdurate stand on the bridge, according to the Swedish daily Dagens Nyheter.

Johansson's decision came close on the heels of a negative report on the 16 km-long bridge-cum-tunnel project by Sweden's National Licensing Board for Environment Protection. The Board said that the high-tech structure did not match Sweden's goal of creating an environmentally sound transport system; a phenomenal number of vehicles were likely to ply on the bridge, and the traffic would seriously harm the environment in the long run.

The Swedish government hasn't bought this argument. The concept of a road-and-rail link with Denmark has been in the air for some time and the agreement for the Oresundsbron bridge was finalised in 1991. Shucking off criticism, the powers that be dismiss the risk of environmental damage, with Swedish prime minister Carl Bildt dubbing it "the greenest bridge that can be built".

However, Bildt's claim has to be taken with a pinch of salt. Approximately 10,000 vehicles are likely to ply between Malmo and Kastrup everyday after the project is completed in June 1999.

Johansson's exit is a stark reminder of the troubling truism that even persons in power may be helpless in their concern for the environment, which remains in danger, even in the world's most eco-conscious state.
Related Content